Whew!
Who knew this challenge was going to whip my patootie! I work with vintage beads ALL of the time. I work with these lovely colors on a regular basis - as a matter of fact I seek them out! So, what's UP, Buttercup?
I ordered my stash the first day and couldn't WAIT to work with those black flowers. I've never worked with anything like them before and I was thrilled. Unfortunately, 2 of the three arrived broken into pieces. The Beading Path (awesome store, BTW) quickly sent me 2 replacements, but this put a reality check on my idea for a super chunky bracelet. Not very practical!
It turns out that the new loves of my life had more difficulty in store for me. (Isn't that always the case?) Let me just show you the finished necklace first - then I'll explain what I mean.
So, I used some lovely vintage glass headpins to decorate the center of the flowers. They turned out to be very pretty! But, when I tried to incorporate them into a necklace design (and there were MANY designs that I went through) they would never lay right. They would turn over, droop, basically look simple awful. So, I did something I never do when making jewelry - I used GLUE! I actually glued each flower contraptions to an aqua lucite links. Well, you know what.....it gave them the support they needed to lay properly. It did limit my design ideas, but I actually like the way it turned out. I added some vintage chain and made it 19 inches because I wanted to wear it with this dress: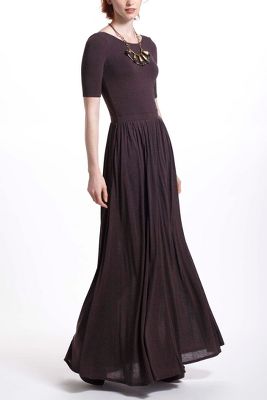 HOWEVER.....
The lucite links have a tendency to wiggle right out of those large jump rings and I'm not sure it is going to stay together long enough for a night on the town. I may just glue those damn things shut too! Apparently glue is my new best friend.
So, I spent something like a total of 7 hours (over several days) on the necklace alone. I had VERY little time left to do the other things I wanted to do - like earrings and a bracelet.....not to mention I had a whole crap-load of beads left over that I hadn't even touched! I got to a couple pair of earrings but the bracelet is still a glimmer in my eye. And there's still some lovely lucite I have yet to touch!!!
So, 2 pair of earrings is all you get at the moment....
These are the teal buttons, with the orange lucite and some vintage glass from my stash. I actually like these a lot and I'm sort of proud of myself for using the buttons in a way that is different for me (I am still holding onto one for a clasp).
Here's 2 of the links with the red lucite and some leather cord.
So, who knows.....I may rip the whole thing apart next week and put together Lucite Challenge Part 2. Plus, there's still a bracelet in the works.
I STILL really love those flowers. Maybe I'll have a 2 am epiphany about them and end up with the necklace of my dreams - because the components are there!
Meanwhile, I'm going to give it a trial run with the dress and see how it holds up. I'll take pics of the complete outfit.
Go check out what other participants have done with these goodies. I'm looking forward to seeing who did ingenious things with the flowers and who avoided the glue!
SongBeads
Pixiloo
Lisa Cone
(You are here)
Suzanne Kiertianis
Copper Diem
http://uptwnsh-fallingintothesky.blogspot.com/
http://franciebroadie.com/blog/
Lisa